Celebrations
10 YEARS OF TRAVEL, EMOTIONS AND MORE!
12 July 2021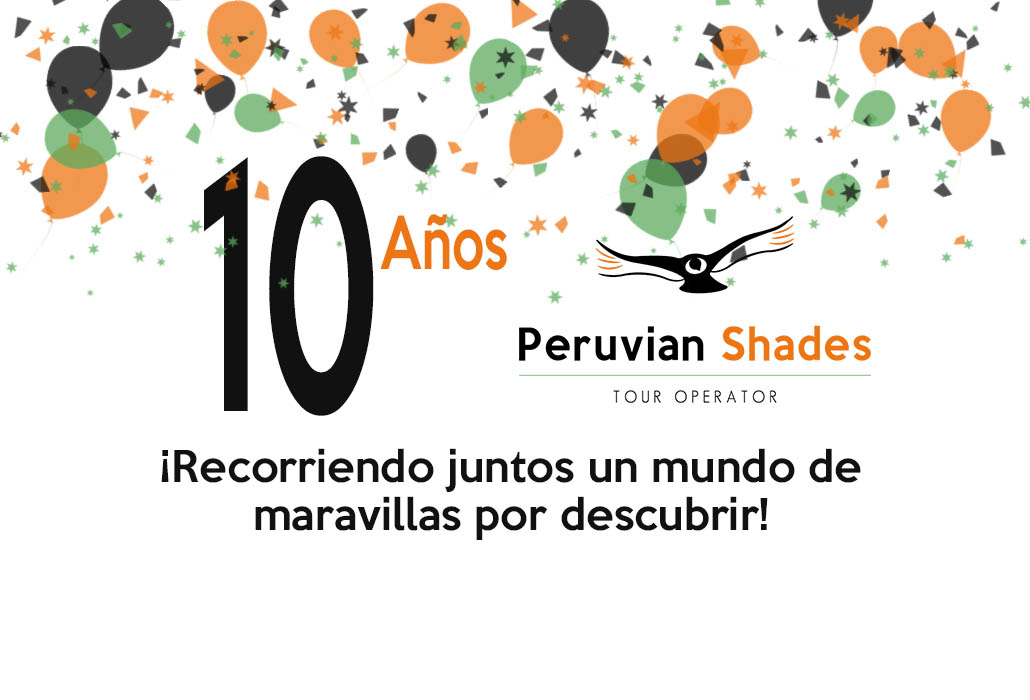 This last year has not been easy, but it has been a year of learning, a year in which we saw that the good work carried out paid off
10 years ago we embarked on a path that has brought us many joys, a decision that brought us to a breaking point between continuing a safe and stable life and risking to undertake something new, which required all our effort and dedication, it was a difficult decision but very successful, this is how Peruvian Shades was born, a Tour Operator dedicated to setting up and providing tourist services within the Peruvian territory, meeting the expectations of our passengers, achieving unforgettable experiences as well as close relationships with our clients.
From the beginning Peruvian Shades was like a son, to whom we taught him to walk and talk, until little by little he began to show some autonomy, recommended passengers from others began to arrive, the same happened with the travel agencies that are our clients , and this led us to improve our services and put together better programs to continue providing options that meet the needs of each client, like any company the beginning was hard, sometimes there were sales, others not, but we persisted and did not give up, we started traveling to inspect the destinations and to be able to share our own experience with our passengers.
At the beginning we had a website with a lot of content about destinations and travel programs, a bit modern for those times, but little by little it became out of date, and we created a new page again, with some improvements and changes in the design and image, we changed our logo, but the essence was the same, we wanted to take our passengers through a world of wonders to discover.
After a few years we began to digitize ourselves little by little, thanks to the courses offered by Promperú in San Isidro and we learned to better manage our social networks and content, we began to work with pages like Y tu que planes, which helped us to have more arrival to the Peruvian market and, unintentionally, to the South American market, this is how we became licensees of the Country Brand in 2019, in mid-2020, during the quarantine, we were forced to make new digitization changes such as the creation of a website with booking engine, new payment tools such as the gateway to our page and the renewal of our usual means of payment such as the payment links so that you can pay your reservations from anywhere in the world with total security and speed, we carry out a new image change, with a more modern logo, but always working to prepare better programs, adapting them to the current reality, creating our biosecurity protocols, and fully complying with the regulations dictated by the state, we began to better work our networks and with this change this "Traveler Blog" was born, in which we can share important information for your trip, our experiences and recommendations, as well as part of our history and culture. Promperú supported us with the Competitiveness Route by putting at our disposal high-level professors, who provide us with new tools to face the future challenges that lie ahead and this year 2021 we were able to renew our license for the use of the Country Brand.
This last year has not been easy, but it has been a year of learning, a year in which we saw that the good work carried out paid off, since once we were able to travel again, our clients looked for us again for the trust and the quality of services we provide, it was a hard year, but we dedicated ourselves to studying and learning to see the glass half full, and we came out with a new vision, focused on the sustainable development of tourism and thanking all those who trusted and They still trust us, as well as those who are no longer with us, and who always believed in our work, the only thing we reproach ourselves for is not having been able to talk one last time to show our gratitude.
We do not know what awaits us this year or the next, we can only trust the tools we have acquired and the desire to work to improve the sector and exceed your expectations.
A very special thanks to our families who supported us throughout this trip and continue to support us, and to our little Nico, who became the main engine of Peruvian Shades and is also the best travel companion that parents can ask for.
This month we have many surprises and news, follow us on our social networks like @peruvianshades on Facebook and @peruvianshadestouroperator on Instagram so you don't miss anything.
A big hug to all our passengers and customers and we hope that the next few years will be successful!
Angie and Denis
Peruvian Shades
A World of Wonders to Discover!